My recent website designs using WordPress:
If you need a boat captain, a yacht delivery, or instruction on how to sail or operate your boat, check out this website!
This website is for Ecole St. Jean, a Brothers of the Sacred Heart school located in Haiti. The site is in French, but is easily translated to any language with the press of a button.
This blog is for the most amazing group of people I know. The Sail the Bahamas group has sailed in the Florida Keys and the Bahamas from 2009 to present. Here you will see pictures from all the trips.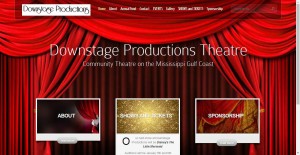 This website is for Downstage Theatre, Community Theatre on the Mississippi Gulf Coast.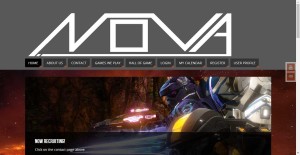 This website is for novateam.us, a group of computer gaming enthusiasts. I got them started on the design and am hosting their site, but I have to give Zeke most of the credit for the great look of this site!
This is for Southern Camper Sales in Biloxi, MS. Southern Camper Sales specializes in camper sales, parts, and service. They even do camper collision repair. Since I am an avid camper myself, it was a pleasure to build this site for these awesome people. This site is primarily an online database of campers and all the details about them. Each detail is searchable and browseable.
Aladdin Shops For You is a new business in Amherst, MA. They provide courier services, deliver groceries, pick up prescriptions, drop off and deliver laundry, do retail shopping, and provide personal transportation. You can submit a shopping list to Aladdin, and Aladdin will do the shopping for you. [This business is on standby right now at the request of the owner. They also run a taxi service and were overwhelmed by the demand!]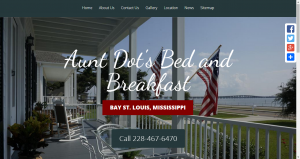 Aunt Dot's Bed and Breakfast is located in beautiful Bay St. Louis on Beach Blvd. This site is responsive of course and really shows off the beauty of the property with a photo slider on the main page and a very special gallery page with 30 photographs. This site is optimized for social media with floating buttons to like the site. There are many not-so-obvious features like an online booking system and calendar.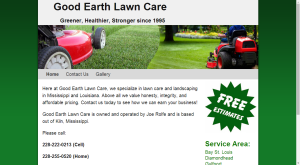 Good Earth Lawncare is owned and operated by Joe Rolfe in Kiln, MS. His company does a great job in providing lawncare services from Gulfport to Slidell.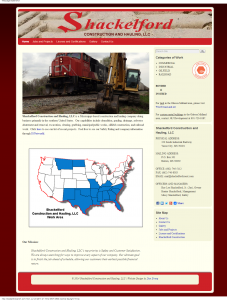 This site is for Shackelford Construction and Hauling in Yazoo City, MS.  It  replaced an old static web site. The new site is housed on a new server and sports many new dynamic features:  It is fully responsive, meaning it renders beautifully on any size device from computer to cell phone. It has an image slider on its main page giving a good look at what the company does. Deeper into the site there is an image gallery that can be controlled in several ways by the viewer. It is search engine optimized, is connected to various social media, has a very nice web contact form that in addition to the normal fields, can upload images or documents from the viewer. I've configured this site to backup offsite for extra security.
This is a site I developed for Taxi Express Inc. located in Amherst, Massachusetts. It features a unique image and text slider on the main page, nice fade-in and fade-out features, an online booking form, a Google map, and much more. It's hard to screen-capture the motion on the homepage, so please click on the link and check it out.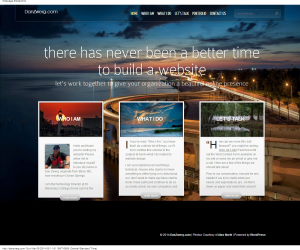 Of course this site is my own site advertising Dan Zwerg Web Design. This site features excellent graphics capabilities. This style of website is very unique and works best for a web design or graphic design business. There are actually two sliders working simultaneously on the main page, the background images and the text. Both work independently of one another and any number of each can be used. As well, each page is configured with its own background image. For the three featured pages, a small version of the background image is displayed on the main page. There are a lot of hidden extras that I've installed in the way of plugins.
This site is for Southern Printing located in Pass Christian, Mississippi. They print on just about anything. I get all my printing done there because they do a great job and are awesome people to deal with.
This is a site for Friend of Sacred Heart Elementary School. This organization raises money for scholarships and other needs of the school.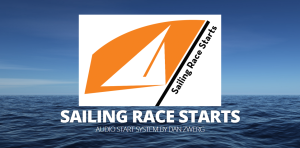 I developed an Android app called Sailing Race Starts a couple of years ago. This app is now used all over the world! If you are into sailboat racing, check out the site and check out the app!
I'm working on several other new websites right now. Maybe YOUR site will be featured here soon...